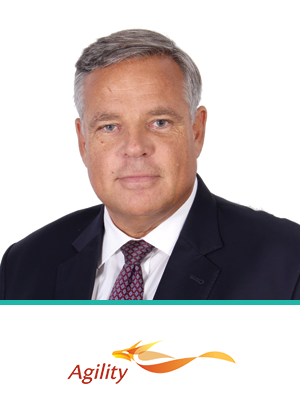 21 May

Geoffrey White

Geoffrey White, CEO of Agility Africa, is an expert on infrastructure development, retail supply chains, agri-business, and investment for African markets. Agility, a leading global provider of logistics and related infrastructure solutions for the oil and gas and FMCG markets, has over $5 billion in revenue, 24,000 employees, and offices in more than 100 countries. Mr White is a member of the Agility Strategic Advisory Board.

Mr. White joined Agility in 2014 after serving as CEO of Lonrho Plc for 8 years, where he developed product supply chains for some of the world's largest retailers and developed essential infrastructure and logistics facilities for Africa's burgeoning oil and gas industry. Mr. White's career path has included Thomas Tilling Plc, BTR Plc, Asda Plc, Hilton, Ford PAG, and a leading Middle Eastern private investment office.

Mr. White has commented on Africa for the BBC, CNN, CNBC, Forbes, and at the World Economic Forum, AU, NEPAD, Royal Africa Society, Chatham House, the Africa Investor Index Series Summit, and The Economist East Africa Summit and many other important African debates. He is a regular author of editorials on Africa.